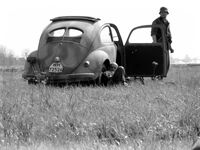 Volkswagen Type 87
General Historical Information
Place of origin
Germany
Category
Reconnaissance Car
Debut in FHSW
Debut in FH
Speed
80 km/h
General Ingame Information
Used by
Germany
Crew in‑game
4
Seat 2
Passenger Seat
Seat 3
Passenger Seat
Seat 4
Passenger Seat
Historical Picture
Under the designation Volkswagen typ 87, this denomination belonged to various versions of Volkswagen vehicles with four-wheel-drive. Among the variants was the car with the civilian body known under the designation "Kommandeurswagen" (command car) VW 877. This was an off-road vehicle which represented a combination of the body of civilian car type VW 60 "Beetle" and of the "Kubelwagen" chassis.
The vehicle was manufactured in this design from 1941 in a limited number of 600 and was delivered mostly to the Afrika Korps. For service in Africa the car was fitted with huge balloon tires for operation in sand. This required a modification of the front axles and widening of the fenders. The engine and the electrical equipment was protected against dust and moisture. Most of the command cars were fitted with a roll-up canvas cover to go over the sun roof opening.
The advantages of this car were it's capability to move off-road and to protect the crew against rain, wind, dust and cold. The disadvantages were the limited mobility of the crew if needing to leave the car in combat conditions and the insufficient luggage space.
Ground Vehicles ingame used by Germany

Armored Cars
Light Tanks
Medium Tanks

-

Pzkpfw III

(

Ausf. J "early"

,

Ausf. J "late" (Ausf. J¹)

',

Ausf. L

,

Ausf. M

,

Ausf. N

)

-

Flammpanzer III

-

Pzkpfw IV

(

Ausf. Ausf. D

,

Ausf. F1

,

Ausf. F2

,

Ausf. H

(

with Night Vision

),

Ausf. J

, (

with Night Vision

)

-

Pzkpfw IV mit 7,5 cm Ruckstossfrei Kanone 43 & 3cm MK 103

-

Pzkpfw V "Panther"

(

Ausf. D

,

Ausf. A

, (

with night vision

),

Ausf. G

, (

with night vision

,

with GT 101 engine

or

with GT 101 engine and with night vision

)

-

Pzkpfw P40 737(i)

(Captured)

-

Pzkpfw 38(t)

(Captured)

-

P zkpfw 739(f)

(Captured)

-

Pzkpfw 747(r)

(Captured)

Heavy Tanks
Tank Destroyers
Assault Guns
Self-propelled Anti-Air guns
Self-propelled anti-tank guns
Self-propelled artillery
Transport vehicles
Other
Ad blocker interference detected!
Wikia is a free-to-use site that makes money from advertising. We have a modified experience for viewers using ad blockers

Wikia is not accessible if you've made further modifications. Remove the custom ad blocker rule(s) and the page will load as expected.