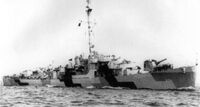 USS John C. Butler (DE-339)
General information
Place of origin
USA
Category
Destroyer
Debut in FHSW
v0.51
Class
John C. Butler-class
Used by
USA
Speed
24 knots (44 km/h)
Crew in‑game
6
Seat 1
Primary weapon
1x 12.7 cm Mk.XII 5"/38 caliber gun
Secondary weapon
10x depth charges
Seat 2
Primary weapon
1x 12.7 cm Mk.XII 5"/38 caliber gun
Secondary weapon
40mm M1936 Twin Bofors
Seat 3
Primary weapon
3x Mk.XV Torpedo tubes
Seat 4
Primary weapon
5x 20mm Oerlikon Mk.I
Seat 5
Primary weapon
5x 20mm Oerlikon Mk.I
Seat 6
Primary weapon
1x 40mm M1936 Twin Bofors
The John C. Butler class destroyer escort originated during World War II. The lead ship was the USS John C. Butler, commissioned on 31 March 1944. The class was also known as the WGT type from their Westinghouse Geared Turbine drive. Of the 293 ships originally planned, 206 were canceled in 1944 and a further four after being laid down; three were not completed until after the end of World War II. The standard armament for the class was two 5 in (127 mm) dual purpose guns, four 40 mm and ten 20 mm anti-aircraft guns, and three 21 in (533 mm) torpedo tubes. It also carried two depth charge racks, eight depth charge projectors and one hedgehog projector as secondary weapons. The ships had a maximum speed of 24 kn (28 mph; 44 km/h). The most notable ship of this class was the Samuel B. Roberts, which gained fame during the Battle of Leyte Gulf, where it, along with several other ships engaged a number of cruisers and battleships of the Imperial Japanese Navy in a torpedo attack, where it was sunk after taking several hits. During this action, Samuel B. Roberts achieved a speed of 28.7 kn (33.0 mph; 53.2 km/h) for over an hour by running her engines at 660 psi (46 bar).
A floating history museum of the destroyer escorts resides in Albany, NY. The USS Slater (DE 766) (a related Cannon-class DE) is docked during temperate months on the Hudson River in Albany, New York. An Edsall class destroyer escort, the USS Stewart, is also on display as a museum ship in Galveston, Texas.
Ad blocker interference detected!
Wikia is a free-to-use site that makes money from advertising. We have a modified experience for viewers using ad blockers

Wikia is not accessible if you've made further modifications. Remove the custom ad blocker rule(s) and the page will load as expected.