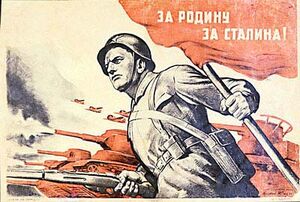 "For the Motherland, for Stalin!"
Russian Ground Vehicles
Edit
Armored cars and light tanks
Edit
Medium tanks
Edit
Heavy tanks
Edit
Tank destroyers
Edit
Assault guns
Edit
Self-propelled artillery
Edit
Self-propelled anti-tank guns
Edit
Self-propelled anti-aircraft guns
Edit
Transport vehicles
Edit
Russian Aircrafts
Edit
Fighters and fighter bombers
Edit
Ground-attack aircrafts
Edit
Russian Watercrafts
Edit
Destroyers
Edit
Russian Stationary Weapons
Edit
Anti-tank
Edit
Artillery
Edit
Pillboxes and Fortifications
Edit
Ad blocker interference detected!
Wikia is a free-to-use site that makes money from advertising. We have a modified experience for viewers using ad blockers

Wikia is not accessible if you've made further modifications. Remove the custom ad blocker rule(s) and the page will load as expected.