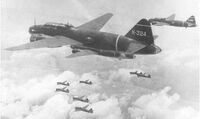 Mitsubishi G4M "Hamaki"
"Betty"
General Historical Information
Place of origin
Japan
Speed
428 km/h
General Ingame Information
Debut
Debut in FH mod
Used by
Japan
Guns
See armament table
Bombs
See armament table
Rockets
See armament table
Special abilities
See armament table
Seat 2
See armament table
Seat 3
See armament table
Seat 4
See armament table
Seat 5
See armament table
Seat 6
See armament table
Historical Picture
Talking about an Japanese bomber, you will speak about this bomber. This is the G4M "Hamaki", Codenamed "Betty" by the Allieds, an long-range medium bomber built by Mitsubishi. From the beginning until the end of World War Two, it saw action in the airforce from the Japanese navy. One of the last missions: carried the Japanese surrender delegation on 19 August 1945. In 1937, the Betty is be designed and the prototype, the G4M1, made his first flight on October 23, 1939. The test are an succes. The first production G4M1s (Navy Type 1 Attack Bomber Model 11) were initially deployed against China in mid-1941 but on the eve of the attack on Malaya the bombers moved to Indo-China and within a week had successfully attacked the Prince of Wales and Repulse. When Allied fighter opposition eventually increased to effective proportions, the G4M1 was seen to be very vulnerable, possessing little armour protection for crew and fuel tanks, and it was in a pair of G4M1s that Admiral Yamamoto and his staff were travelling when shot down by P-38s over Bougainville on 18 April 1943. The G4M2 was therefore introduced with increased armament, increased fuel and 1343kW Mitsubishi Kasei radiais, and this version remained in production until the end of the war steadily improved G4M1's. A further improved version, the G4M3, with increased crew protection, was also produced in small numbers. In FHSW, the bomber is the carriage for the Ohka sucuide bomb.
Possition
Torpedo version
Cluster version

Ohka version

Seat 1


1x 45cm Type 91 Torpedo


4x Type 2 No6 Mod-27 Cluster
4x 250 Kg bomb
1x Ohka

Seat 2

1x 20mm Type 99-11

1x

20mm Type 99-11

1x 20mm Type 99-11

Seat 3
1x

1x 7.7mm Type 92

1x

20mm Type 99-11

1x

20mm Type 99-2 Mod 3

Seat 4
1x 7.7mm Type 92
1x

20mm Type 99-11

1x

20mm Type 99-11

Seat 5
1x 7.7mm Type 92
1x

20mm Type 99-11

1x

20mm Type 99-11

Seat 6
1x 7.7mm Type 92
1x 7.7mm Type 92
Ohka Entree