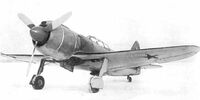 Lavochkin La-7
General Historical Information
Place of origin
USSR
Speed
665 km/h
Category
Interceptor
General Ingame Information
Used by
USSR
Guns
2x 20 mm ShVAK cannons
Bombs
See list below
Rockets
See list below
Historical Picture
The Lavochkin La-7 was one of the best Soviet fighters during World War II, sharing this honor with the Yak-3.
It was superior to many fighters, which were in service of Germany, Britain and the U.S. It had excellent maneuverability, powerful armanent and excellent visibility from the cockpit.
La-7 first flew in February 1944 and within six months entered service in the Soviet Air Force. By late autumn, La-7 completely replaced its predecessor - La-5 FN - from conveyors. Key design features of the La-7 are the complete sealing of the fuselage, a modified form of the hood and metal wing spar instead of wooden. As a result, plane is faster and more maneuverable than its predecessor. Numerous battles have shown that La-7 easily entered into the figth with the superior numbers of the enemy aircraft and hit enemy fighters and bombers with high efficiency. Exactly on this plane famous Soviet ace Ivan Kozhedub scored his 62 aerial victories.
By the end of the war, 5,735 planes were produced.
Weaponry
Option 1

M1: 2x 20 mm ShVAK cannons

Option 2
M1: 2x 20 mm ShVAK cannons
M2: 6x 82mm BRS82 HEAT Rockets
Option 3
M1: 2x 20 mm ShVAK cannons
M2: 6x 82mm RS82 HE Rockets
Option 4
M1: 2x 20 mm ShVAK cannons
M2: 2x 100 kg Bombs
Ad blocker interference detected!
Wikia is a free-to-use site that makes money from advertising. We have a modified experience for viewers using ad blockers

Wikia is not accessible if you've made further modifications. Remove the custom ad blocker rule(s) and the page will load as expected.