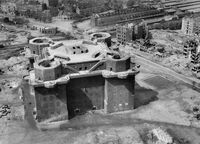 Designed by Adolf Hitler and built in only 8 months, the Flak Tower in FHSW is based on the Flakturm IV in Heiligengeistfeld in Hamburg. The bunker has four Flak platorms on each corner. The bunker in the mod has on each corner a 12.8 cm Flakzwilling 40 with on the lower platform one 2 cm Flakvierling 38 and four 3.7 cm FlaK 43. In total, the arming of the bunker:
Access to the Flakturm can only gained via eight doors and one gate. Those are very heavy armored and can only be open by the Germans inside. Germans, to open this, go to the door or to an electric cabinet. In the centre, there is also an elevator which can rise up cars and tanks. The Flakturm can not be destroyed, only the guns can be destroyed by bombers. The guns are so powerfull, it can easily destroy a ship. There is also a radar available and a powerfull zoom function.
Template:Fortification
Ad blocker interference detected!
Wikia is a free-to-use site that makes money from advertising. We have a modified experience for viewers using ad blockers

Wikia is not accessible if you've made further modifications. Remove the custom ad blocker rule(s) and the page will load as expected.